By Alok Saboo on June 1st, 2012
LocalPhone has been running promotions where they offer free calls to a particular country for a brief period (typically a week). In the past, they have offered free calls to various countries including Greece, Ghana, Venezuela, Cyprus, Canada, Poland, China, and France. However, in celebrations of The Queen's Diamond Jubilee, LocalPhone is giving away four days of free international calls to landlines in the 16 Commonwealth countries starting 2nd June 12:00hrs (noon) GMT until 6th June 12:00hrs GMT.
To start making free calls, you need to create an account with LocalPhone, if you do not have one already. You will then be able to make free calls to landline numbers in the following countries:
Antigua and Barbuda, Australia, Bahamas, Barbados, Belize, Canada, Grenada, Jamaica, New Zealand, Papua New Guinea, Saint Kitts and Nevis, Saint Lucia, Saint Vincent and the Grenadines, Solomon Islands, Tuvalu, and United Kingdom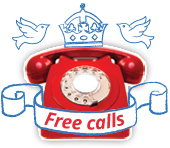 While many of the popular commonwealth countries (e.g., India) are not included, but this is a wonderful offer in any case. For example, you can call Solomon Islands for free instead of paying 85 cents per minute. Please note that you can only make calls worth 60 minutes every day.
You can make calls from a mobile phone, landline or computer and there are no calling cards or double dialing involved. So, hurry up and enjoy 4 days of free calls!!